Enjoy a morning and night walk in Asakusa!
Morning walk in Asakusa
As you head to the Kaminarimon Gate walking down the back roads of Asakusa, you can experience the atmosphere of old Japan. This is the best time to enjoy the quiet streets before the daytime tourists arrive. With its early morning streets being empty, this is perfect time to take photographs of the magnificent Kaminarimon Gate with the background of the Nakamise-dori shopping streets. After passing through the gate, keep walking down the Nakamise-dori shopping street, which is still in silence due to all the shops won't open until 9 a.m.
On your way to the Hozomon Gate, you can enjoy the shutters decorated with Japanese art.
In the early morning light, the splendid red of the Hozomon Gate is enhanced. Further back is the main temple building. Before entering the Hondo (the place you offer your prayer) you will first go to the Omizuya, the place where visitors wash their hands and mouths before worshiping. Now you may offer your prayer at the Hondo. Please take you time since there are few people in the morning.
Suggested morning route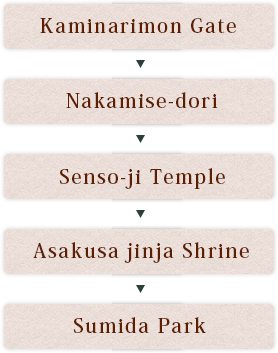 Night Walk in Asakusa
As you leave the grounds of the Japanese Inn, you can see the TOKYO SKYTREE on your right. As you walk to the Sumida River, the view of the TOKYO SKYTREE becomes bigger. The TOKYO SKYTREE is lit-up with a variety of colors, such as light blue and elegant purple. The colors are inspired from the colors of the Sumida River. The night view of the TOKYO SKYTREE is very different from the daytime. On special occasions the TOKYO SKYTREE is lit with special colors. If you are lucky, you may get to see the TOKYO SKYTREE illuminating with special colors.
At nighttime on the Sumida River, you may encounter Yakatabune , or beautiful houseboats, and Japanese lanterns coasting in the Sumida River. With the boats shadows and silent ripples, the night view of the river can help calm and cleanse your mind.
At nighttime you can experience the lit up Senso-ji Temple's Kaminarimon Gate. With its brilliant red color, it makes you feel as if you have stepped into a fantasy world. You will next see the lit up guardians at the Hozonmon. On the left side stands Agyozo, and on the right is Ungyozo. The light up shows the two statues' clear faces. After passing through the Hozomon Gate, you will have an incredible view of the five-storied pagoda under the light.
After experiencing the different appearances of Senso-ji Temple, you can also visit the Asakusa-jinja Shrine located right near the Senso-ji Temple. In contrast to the Senso-ji Temple, the atmosphere of the Asakusa-jinja Shrine at night is much more quiet and mysterious. Walking at night through Asakusa is a different experience than the daytime.
Suggested night route